A new age in computing and business
With the power of artificial intelligence and machine learning algorithms, the opportunities are endless.
Our team of experts provides the full package, including data analysis and preparation, model development, implementation and training, and finally integration and post-launch support.
We are true leaders in artificial intelligence and machine learning
These revolutionary technologies are robust and flexible enough to be applied to a large variety of industries including sales, marketing, insurance, and even the medical field.
Our solution are both simple to understand, and easy to use
We can create custom predictive dashboards that will allow you to visualize data, generate reports, and gain insights into how your business operates. This may reveal inefficiencies in your day-to-day activities which, once rectified or automated, could lead to both time and cost savings. This is just one example of how our AI and machine learning services could benefit you and your business.
Trust us to champion your goals
Our talented AI & ML team that consists of highly skilled data scientists with PHDs in Math and Computer Science, is driven to use these new technologies to their full potential.
The AI & ML applications we create are capable of processing and utilizing vast amounts of data. This is made possible by our well-designed artificial intelligence models and algorithms.
We strive to keep learning and growing as a company, and our dedication to mastering new technologies has led to Integrio Systems becoming one of the leading AI software development companies in the areas of prediction, automation, and personalization.
When you work with Integrio Systems, you are building a partnership we hope will last a lifetime.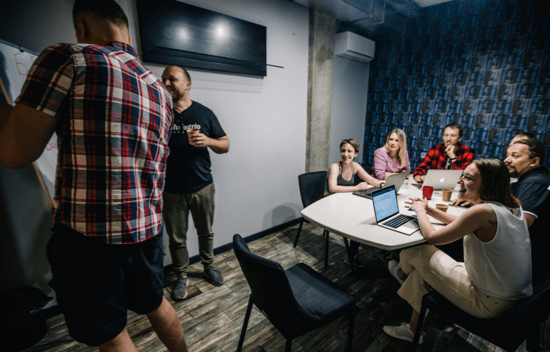 Proven industry experience
Integrio Systems loves working with both exciting new startups and established large enterprises. Over the past 20 years, we have successfully delivered custom software development services across a variety of industries, including:
SaaS products
Manufacturing
Digital Marketing
Aviation and Transportation
Real Estate and Property Management
Health and Fitness
Retail and e-commerce
Telecommunications
Domain names industry
Financial and payment processing
Technology and Innovation
This varied industry experience has led to our team becoming familiar with the unique requirements and practices that certain industries demand.
This specialized knowledge we have accumulated over the years combined with top-notch skills and capabilities in cutting-edge AI and ML technologies makes it possible for us to deliver massive value to projects and businesses, no matter what industry they belong to. This exposure has not only allowed us to gain specific knowledge of unique sets of requirements and best practices, but has also given us the overall expertise to take on any imaginable project.
Our AI / ML services include
Services
Prediction Engines
Cluster Analysis
Recommendation Engines
Marketing Personalization & Optimization
Biometric Data Analysis
POS Data Analytics
Coupon Automation
AI-Powered A/B Testing
Sales Prediction & Forecasting
Chatbots and Intelligent Assistants
Technologies
Custom AI Algorithms
Pythorch
AWS
PYMC3
Python
XGBoost
TensorFlow
Implicit MF
FastAI
Networkx
Keras
IGraph
One of our clients came to us with the following issue: "We want to have the smallest possible number of items in stock, but we never want to miss out on a sale because we don't have enough of a particular item".
This is the type of challenge we are frequently asked to solve. Sales forecasting provides information regarding how much of a certain product, brand, or category of items is likely to be sold within a specified time frame, either company-wide or per location. This enables your business to not only accurately forecast the inventory but also other resources required, such as equipment, employees, or tables at a restaurant. This information empowers you to adjust sales and marketing strategies, promotions, and optimize pricing.
Advertising personalization and marketing campaign optimization through artificial intelligence can significantly increase customer engagement and ROI on marketing campaigns. By analyzing data such as the customers' purchase and browsing history, AI and machine learning techniques help to detect what product SKUs, brands, or categories they are most likely to purchase, including when and at what price point or discount level.
Isolating the most effective advertising channel, messaging and communication frequency that works for each individual customer increases the likelihood of your targeted users becoming your long-term, high-value customers.
When humans attempt to group things together, they often do so with implicit bias, which affects the accuracy and validity of that particular group. Manual or rules-based grouping approaches often fall short because the human brain is unable to see all dependencies in the data, especially when working with large data sets. Clustering is an unsupervised machine learning technique that allows machines to find patterns between related items, and create groups based on that impartial analysis.
When using clustering, data scientists implement a learning model indicating which attributes should be used for grouping, for example, customer transaction history, product, and brand preferences, visit frequency, price preferences, use of discounts, and so on and the machine does the rest. This allows one to find patterns and customer personas that are impossible to discover without the use of machine learning. Clustering results can be used to drive your company sales efforts, marketing campaigns and other initiatives.
A/B testing is a crucial part of any marketing strategy. It is the only way to accurately evaluate the effectiveness of a marketing campaign. It consists of comparing the reaction of your customers to one particular campaign versus another, and measuring the difference. Those are the important questions that A/B testing answers. Although it is widely used, effectively managing the testing still proves challenging to the most experienced marketing teams. What should be the size of the test groups to get statistically significant results and how to populate them in such a manner that they are truly similar?
What should be the duration of the test and how much data should be collected? And most importantly - how to correctly interpret the results of A/B testing? The AI and ML software development services we offer provide you the tools to get answers to these complex questions. We make it possible for you to leverage your data and increase the efficiency of your marketing efforts.
Start your AI project today with Integrio Systems
When you work with Integrio Systems, you are building a partnership we hope will last a lifetime. We provide ongoing support to keep the software we deliver running smoothly and efficiently.
Our work with such a variety of different clients, across many industries, has led to our process becoming exceedingly flexible and versatile. We have a proven history of delivering solutions to complex problems, which is made possible through tailored analysis, modeling, development, and striving to achieve a deep understanding of the particular needs of each client.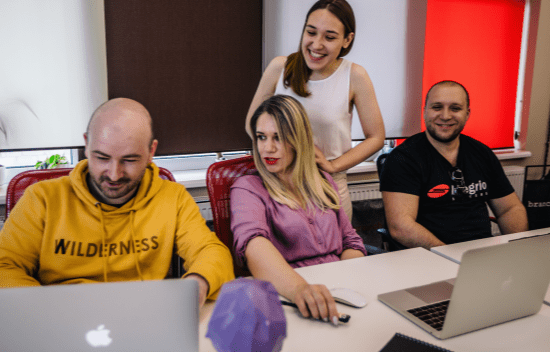 By choosing our team, you choose
Europe largest IT pool
Project scalability
Flexible terms of cooperation
Unrivaled cost effectiveness
You should never be left in the dark when creating a custom-made software solution. On top of our dedicated team of developers and data scientists, we have on-site managers to ensure you are always in the loop regarding the status of your project.
We have extensive experience in creating cutting edge artificial intelligence and machine learning applications and would be overjoyed to start the process of bringing your dream project to life.