Legacy System Modernization Services
Legacy systems are often a nightmare scenario for integrating your business with cloud computing services, complying with modern security standards, and innovating your operations with cutting-edge technologies, including AI and machine learning. As well, legacy systems run on heavily outdated software which could be both a security risk and downfall your company performance. Legacy code often does not work with modern APIs making it not possible to connect the application with external services. In the course of time it becomes harder to find specialists ready to maintain continuous support of legacy applications.
Many decision-makers have a well-established opinion that modernization in this context leads to the loss of existing business logic and product functionality. However, in practice, a legacy system modernization implies updating existing components and rewriting legacy code into a modern stack, while preserving the existing product logic and functionality. Modernizing-a-legacy-system-as-a-service assumes a deep understanding of business operations of the company and the role of the system in them. So let's discuss how full-cycle modernization of legacy systems is made and how to rebuild an outdated custom software solution into a modern system that performs as expected and meets your business goals.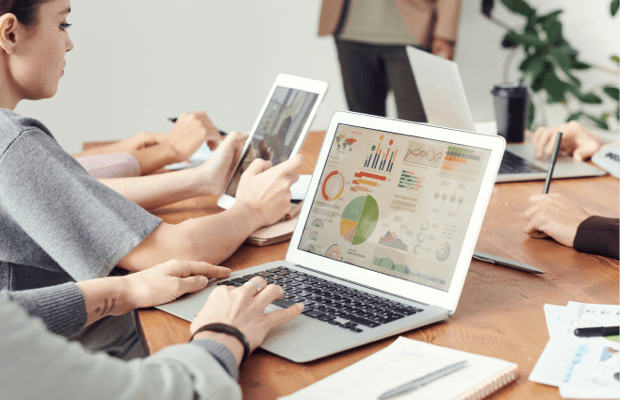 Modernizing a legacy system as a service assumes a deep understanding of business operations of the company and the role of the system in them.
The role of experts in legacy systems modernization
Our team can help you with integrating legacy corporate systems with modern platforms, by following modern tech trends and focusing on your precise business needs.
Proficient planning and implementation
We provide high-level experience and deep expertise in project design, development, and support.
Achieving global business goals
We apply our experience in software modernization projects to accelerate your legacy enterprise systems modernization process and meet your business and technology needs.
Cutting edge expertise
We help drive forward the migration of your legacy systems with the efficiency you expect from a world-class professional services team.
Path to fast and efficient legacy system modernization
Understand your
business scope
Our main task as a vendor is to understand the business vision and strategic goals of the client, relate all the strengths and weaknesses, and build a modernization strategy to reap the best possible ROI.
Analyze your
legacy system
Experts from our legacy modernization company carefully review the entire functionality and code, modules, and capabilities of your legacy system in order to determine further modernization strategy.
Ensure continuous
modernization
Our legacy software modernization company will meet all of your legacy enterprise systems modernization requirements. We employ high software quality standards and create custom legacy modernization solutions crafted specifically for your business. We want to help our clients to convert the hurdles into advantages.
What services does our legacy software modernization company provide?
Business and
technology consulting
We collaborate closely with your business and technology executives as well as IT staff to ensure we fully understand your needs and internal policies & software strategies. Together, we'll craft the most efficient upgrade to your legacy systems and, if desired, migration of legacy systems to the cloud.
Expert-level
specialists
Our software modernization company is constantly evolving and stays up-to-date with modern trends in IT infrastructure, architecture, software, and systems migration techniques. Additionally, we create a friendly, results-driven work environment which means our team members stick with us for the long term. The result is a more cohesive team with a large and experienced body of industry-specific knowledge.
Communication and
partnership
We guarantee clear, transparent, and continuous communication between our team and yours. By scheduling and delivering regular phone and video conferences, scrum meetings, and detailed migration reports, we help keep you 100% updated and fully aware of your legacy systems modernization, every step of the way.
Modernization of legacy systems: case studies
Let's find out how our legacy systems modernization company solves the problems faced by clients with outdated software.
123Signup
123Signup launched a SaaS solution for event and association management nearly 20 years ago. In 2015, the company decided to start cooperation with Integrio, as their cooperation with another software company was no longer productive.
The main task that was given to the Integrio team was to refactor the code and update legacy components in order to introduce new functionality into the existing product and to ensure better stability.
After in-depth analysis, the Integrio team identified existing shortcomings, developed a new user interface and several new blocks for end-to-end automation (for event and membership management, for donations, for reporting and analytics, for website creation, etc.), and integrated billing, POS, and some third party services.
As a result, 123Signup got the rebuilt version of their SaaS solution with improved functionality and interface. The collaboration between 123Signup and Integrio Systems continues to this day.
Tech stack:
Java
Oracle
Spring
Bootstrap
Hibernate
AWS
See all case studies