Hire .NET Developers
Tired of the time and effort to find the right .NET developers for your project? Let Integrio build advanced software solutions with experienced and motivated professionals.
Discuss Project Now
Hire .NET Programmers in
4 Steps
Simplify hiring .NET developers with Integrio Systems.
1. Determine Your Expectations
Fill out our brief form to define your business needs and the right skill set for your product. Be honest with your technical and personal expectations.
2. Wait For Perfect Developers
Our team conducts technical interviews and carefully selects candidates based on specific requirements. We will provide you with the CVs of the most highly qualified specialists.
3. Schedule Final Interviews
Conduct final interviews to make sure that we provide you with developers suitable for your needs. During the first meeting rounds, 81% of our clients hire offshore .NET developers.
4. Start the
Project
Integrate your new experts and start development without administrative issues. Benefit from our ongoing support and project management.
Technical Expertise of Our Dedicated .NET Developers
Our coders have years of experience in .NET development and are equipped with various technologies to bring your project to life.
Frameworks:
ASP.NET, ASP.NET Core, MVC, Web API
Database:
SQL Server, Oracle, MySQL
Cloud server:
Microsoft Azure, Amazon Web Services (AWS)
Libraries:
.NET Framework Class Library, Entity Framework, LINQ, Newtonsoft JSON
Tools & Utilities:
Visual Studio, Visual Studio Code, Git, JIRA, Slack
Our .NET Capabilities
Discover the endless opportunities of creating software with Integrio's .NET developers for hire.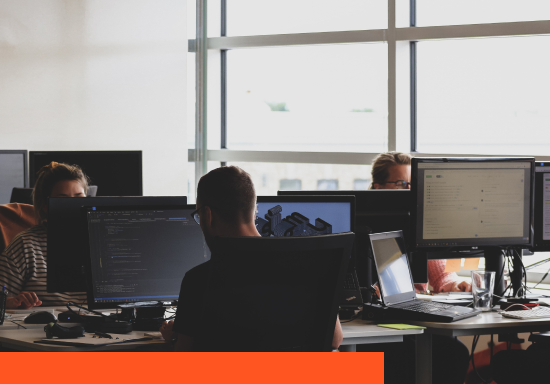 Cross-Platform Development

.Net supports writing code on one operating system and running it on another, reaching a larger audience with your application.

Modular Programming

With .Net, developers can write modular and reusable code, creating complex solutions that are easy to maintain and update over time.

Web Solutions

Hire .Net developers to build scalable and secure web applications that handle high traffic volumes and complex functionality.

Desktop Development

We use .Net and other frameworks to create rich, graphical desktop applications that can leverage the full power of the operating system and hardware.

Database Integration

Our in-house .NET developers use the framework to connect to databases, perform CRUD (Create, Read, Update, Delete) operations, and integrate data into your application.

Cloud Computing

.Net provides strong support for cloud-based applications that can scale dynamically, be deployed quickly, and leverage other cloud opportunities.
Benefits of Hiring .NET Developers from Integrio
Searching for reliable and efficient specialists.to assist you in developing your product? Discover the benefits you can expect when you hire .NET experts from Integrio:
Transparent Process
Our developers provide regular updates and handle feedback at every stage to ensure that the final product meets your expectations.
On-Time Delivery
Our team works according to Agile methodologies, breaking down complex projects into smaller, manageable tasks to deliver your project on time.
Cost-Efficient Options
We offer flexible pricing models so that development doesn't hit your budget. For example, you can pay based on time & material or monthly retainer pricing models.
Seamless Support
We are fully invested in our work and provide ongoing support to guarantee your project runs smoothly long after it's been delivered.
Fullfill all your software needs
Let us help you hire all the required specialists for developing software of various types and complexity.
Get a Quote
FAQ
Firstly, look for a senior .NET developer with relevant experience working with the required technologies. Ensure they have a deep understanding of .NET frameworks and databases and strong problem-solving and communication skills. Finally, consider their ability to work well within a team and check the portfolio of delivering projects.
The cost of hiring .NET developers from Integrio depends on several factors, such as the experience level, the project's complexity, and the engagement duration. Also, we offer several pricing models — time & material, fixed price, and monthly retainer. Contact our team to discuss your requirements and receive a personalized quote.
Our developers have access to state-of-the-art hardware and software, ensuring they have the tools to deliver high-quality work. We understand that the right equipment is essential for productivity and success, and we take care of all the logistics to guarantee our specialists get everything they need to perform at their best.
IT companies like Integrio typically have established processes and protocols for managing projects and ensuring quality control, which can give you peace of mind about product success. Also, you can access a wider range of technical knowledge and resources, as well as long-term stability and support.
Integrio provides .NET developers with a strong technical background and a proven track record of delivering quality software solutions. Our specialists typically have years of experience working with the .NET framework and Master's and Ph.D. degrees in mathematics and relative fields.
At Integrio, we work with clients worldwide and understand the importance of communicating and collaborating effectively across different time zones. Our team of specialists is vast, which enables us to tailor a solution that caters to your requirements, ensuring a favorable outcome for your project.