Hire React Developers
Hire dedicated React developers to build scalable, high-performance applications with responsive user interfaces. Benefit from component-based architecture to create solutions with experienced specialists that will boost your software development.
Discuss your project
Hire React Experts in
4 Steps
Your project deserves the best dedicated React developers, so let Integrio find them.
1. Communicate Your
Needs
Identify the specific requirements, scope, and objectives of your project. Outline the technical and non-technical skills, experience level, and project duration that align with your goals.
2. Leave Candidate
Screening to Us
Forget about recruitment hassle and allow us to evaluate candidates based on their React proficiency, portfolio, previous experience, and problem-solving skills.
3. Schedule the
Interviews
Overview the CVs of the most suitable React developers for hire and interview the most promising of them. Ensure you're on the same page and that your team will be comfortable working with these people.
4. Kickstart Your
Project
We will help to smoothly integrate new React software engineers into your in-house team and foster effective collaboration.
Services Our Сertified React Developer Provides
Hire remote React developers to create advanced solutions for your business.
React Web App Development
React Mobile App Development
React UI/UX Design Development
React Development for Startups
React Enterprise Software Development
React Support and Maintenance
Custom React Software Development
Benefits of Hiring React Developers from Integrio
Partner with our React software engineers to get professional assistance.
Experienced Partner
For 23 years, we have helped a number of startups, small and mid-sized companies, and large-scale enterprises from transportation, real estate, and other industries.
Seamless Development Experience
Integrio provides React developers to deliver a comprehensive range of services — from idea validation and prototyping to building MVP and scaling for further growth.
Innovative Software
At Integrio, we stay up-to-date with the latest trends and technologies, delivering AI/ML solutions for intelligent assistants, recommendation engines, advanced data analytics, etc.
Appropriate Cooperation Model
Сhoose the most suitable cooperation model that aligns with your business needs — and pay for time & material spent or a monthly retainer. Contact us to discuss it in detail.
Engagement Models to Hire React Programmers
You choose how to collaborate with React developers to meet project requirements.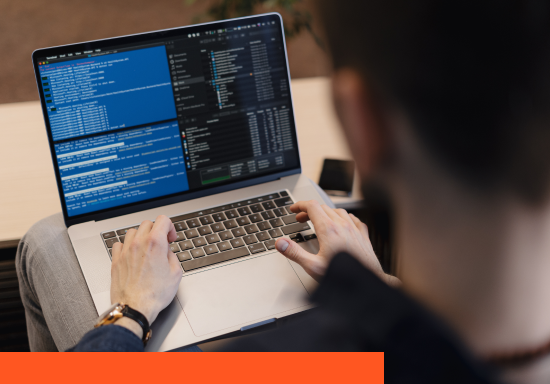 Fullfill all your software needs
Let us help you hire all the required specialists for developing software of various types and complexity.
Get a Quote
FAQ
Expenses to hire React developers remotely can vary depending on their experience level, location, and specific project requirements. At Integrio, we provide competitive pricing for the services of our professionals. To get a personalized quote and discuss your project details, please contact our team.
React is highly popular for building interactive and dynamic web applications, as well as cross-platform mobile solutions for iOS and Android. Whether you need a small website or a complex enterprise platform, hire the best React developers with Integrio to bring your project to life.
React has gained immense popularity in the developer community due to its component-based architecture. It has a robust ecosystem with a vast collection of third-party libraries, tools, and frameworks. Also, our senior React developers can use it to build cross-platform mobile applications.
By hiring a certified React developer from a company, you can ensure consistent progress, smooth communication and minimize project risks. They are committed to meeting project deadlines and objectives. Also, an IT vendor provides access to a broader range of skills and expertise beyond React.
To check the progress of hired React developers, set clear project goals, deliverables, and milestones. Schedule regular meetings to discuss the results, challenges, and next steps. Conduct periodic code reviews to identify any potential issues early on and ensure the maintainability and scalability of the codebase.