Hire Angular Developers
Hiring Angular developers helps you create a complex, user-friendly web application to drive your business forward. So start your journey to finding the perfect specialists for the task in a few clicks — just contact us to share your needs and ideas.
Discuss your project
Hire Angular Experts in
4 Steps
Need to find top-notch Angular software engineers? Follow these steps to get started.
1. Outline Your Needs
Identify the problem to solve, understand your requirements, and define the project's scope. Make sure developers' vision aligns with your company goals and objectives.
2. Shortlist Talent
Allow us to take all the recruiting mess. That is, we source candidates, evaluate their skills and experience, and shortlist the most suitable specialists.
3. Make Final Choices
Review the CVs and conduct the final interviews and assessments. Select a certified Angular developer for your project and make them an offer.
4. Start Development
We take care of the hiring duties and provide specialists with workstations. Focus on the business strategy and enjoy how new talents deal with assigned tasks.
Services Our Dedicated Angular Developers Provide
Hire Angular programmers to get assistance and support with the following tasks.
Developing and maintaining scalable web applications
Building responsive and mobile-friendly user interfaces
Creating custom features and functionalities
Implementing modern design concepts and UI/UX best practices
Integrating third-party APIs into your existing solution
Testing the software to ensure its quality and reliability
Optimizing the performance of your Angular application
Providing ongoing maintenance and support
Tech Stack Our In-House Angular Developers Use
Our Angular developers for hire have extensive experience and expertise in modern tools and technologies. They constantly keep themselves updated with the latest trends and best practices in web development to stay ahead of the curve.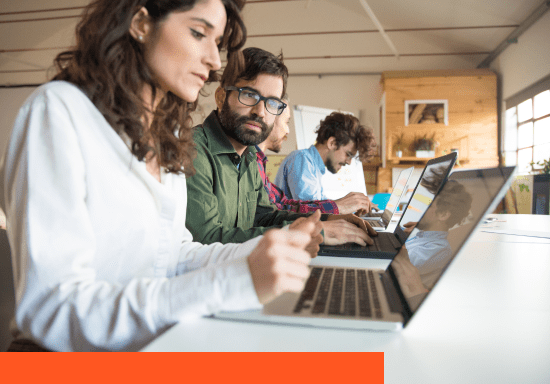 HTML5

CSS3

JavaScript

TypeScript

NgRx

Bootstrap

GraphQL
Reasons to Hire Dedicated Angular Developers from Integrio
Learn the benefits you can expect when hiring a senior Angular developer from Integrio.
Solid Expertise
Our company has 20+ years of experience in creating secure and high-performance solutions for aviation, manufacturing, real estate, retail and other businesses.
Cost-Effective Options
Access to top-quality development services at a reasonable cost. You can hire remote Angular developers and pay for time & material spent or opt for a monthly retainer.
Progressive Technologies
We are always happy to bring AI/ML technologies to the project, allowing you to receive high-quality analytics, forecasts, and recommendations.
End-to-End Solution
We assist you at each stage of the development process, from idea validation to MVP creation, testing, and further scaling or improvements.
Fullfill all your software needs
Let us help you hire all the required specialists for developing software of various types and complexity.
Get a Quote
FAQ
Hire offshore Angular developers if your project requires complex, dynamic, and interactive web solutions. It could be anything from enterprise-level solutions to single-page applications. Angular is a popular choice for those who need a robust front-end framework, real-time data processing, and high-performance development.
Look for developers who have experience working with Angular and related technologies. Assess their communication and collaboration skills as well as problem-solving skills. Ensure that their work style and availability align with your project needs. Or delegate all these steps to a reliable IT vendor like Integrio.
The cost of hiring an Angular developer from Integrio will depend on several factors, including the project scope, experience and expertise required, and the engagement model you choose. Contact us to discuss your specific needs.
We take care of the administrative tasks and infrastructure management, allowing you to focus on the marketing strategy and other crucial tasks. Integrio provides Angular developers with the necessary workstations and equipment, from computers to essential software.
Yes, Integrio Angular developers can join mid-project, depending on availability and workload. If you need to add more specialists or replace a programmer who has left, we can help you find a suitable expert and seamlessly integrate them into the team.
Our developers have extensive expertise in building complex solutions using Angular. In addition to their technical skills, Integrio specialists are experienced in Agile methodologies and collaborative environments. Our experts prioritize professional growth by studying the most recent trends and technologies.
Our Angular developers have experience in working with clients from all over the world. Whether you are located in the United States, Europe, or elsewhere, we ensure that business hours overlap is sufficient to establish efficient communication with our specialists.