Why Ukraine is the Best Outsourcing Destination?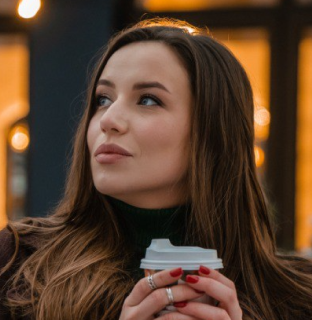 Nowadays, many companies actively use IT outsourcing services. This is the only way to implement their business ideas for many business owners (in particular, when it comes to startup product development). One of the top countries where you can find qualified IT specialists with affordable rates is Ukraine. Below, we will discuss the nuances and advantages of outsourcing of software development in Ukraine.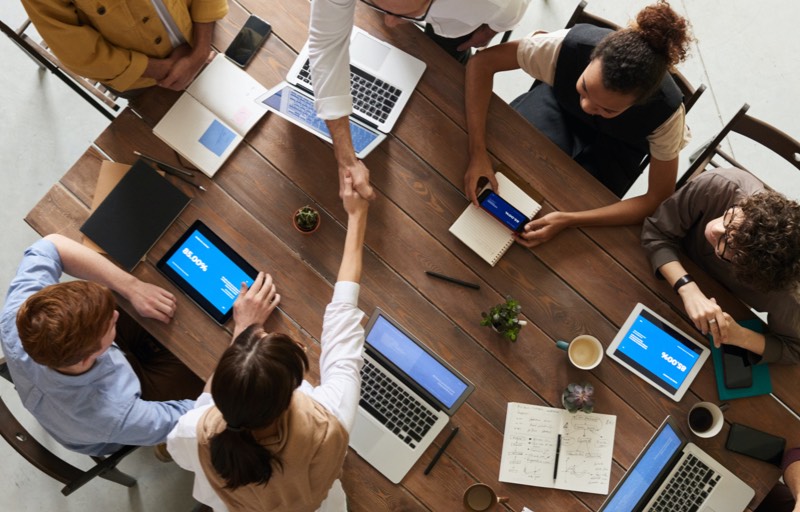 If you are interested in outsourcing your IT projects, just contact us. We always guarantee our clients the highest quality of our work and cost-effective cooperation.
---
Ukrainian IT Outsourcing at the Global Arena
Ukrainian IT companies have had a good reputation as outsourcing partners for many years. For example, back in 2013, Ukraine entered the top five in the world in terms of the number of certified IT specialists, and in 2017 it became the best country for the outsourcing of the year.
Over the years, the number of nominations has increased: three years ago, the country was among the 25 most attractive countries in the world for software development (especially in the artificial intelligence niche), and in 2021, GSA UK declared Ukraine the best country for outsourcing.
The main export markets for software development services are the USA, Canada, Australia, the UK, and the countries of Western Europe.
As for the global European statistics, the demand for IT outsourcing will increase in the coming years. For example, its revenue is expected to reach about $130m in 2022.
---
Technical Education in Ukraine
Let's discuss the level of local IT education, a key factor that determines the popularity of software development outsourcing to Ukraine.
Technical specializations at Ukrainian universities
Ever since the beginning of the 2000s, Ukraine began to occupy high positions in the world's top countries for IT outsourcing. This fact has a good foundation—back in the days of the USSR in Ukraine, local universities annually produced hundreds of experts in mathematics, computer science, and other IT-adjacent disciplines. With the development of the IT industry in the world, these universities began to expand their training programs, providing a decent level of education for their students.
Specialized courses
Also, do not underestimate the courses that offer to train IT specialists from scratch or improve their current level of qualification. Of course, there are "dummy" ones among them, but the vast majority exist under the leadership of top Ukrainian IT companies to raise experts and employ them immediately after graduation.
Self-study
Another way to raise a good specialist is to learn everything yourself. Indeed, there are no more diligent, persistent, and hardworking specialists than those who mastered computer science from beginning to end on their own, without outside help.
Internships in well-known IT companies
And finally, another way to enter the IT industry in Ukraine is to receive a grant to study in well-known international IT companies. Such privileges usually go to the most talented students for their achievements while studying at the university. It is evident that they receive advanced knowledge here and adopt the experience of the world's leading specialists.
---
Top Programming Languages and Development Directions in Ukraine
Based on the rating compiled froma survey of over 7,000 respondents, JavaScript—a language for web app development—remains in the top demand for programming languages in Ukraine (more than 18%). Also in the top five are Java, C#, Python, and PHP. As you can see, these statistics largely correlate with the global statistics (however, the first one lacks such apparently popular languages like MATLAB and Groovy).
Let's consider a short overview of these top programming languages.
Javascript

It is a popular general-purpose language that is used in mobile and web development. For many years now, this language has been at the top of the most popular programming languages in the world. And it's understandable why: JS is supported by the vast majority of web browsers.

As for the practical purpose, the main task of JS is to control the behavior of web pages. In particular, it is good at creating dynamic content and allows you to develop advanced interactive user interfaces.

Java

This object-oriented language, compatible with all popular operating systems. This language is also considered relatively easy to learn and boasts a high level of code reliability.

As for the main purpose, few other programming languages can process large data streams as efficiently as Java. That is why it can often be found in the technology stack of solutions in the FinTech niche.

C#

This object-oriented language from Microsoft is often used to develop desktop, web, and mobile software. In fact, it is a more advanced continuation of C++.

This language has a fairly large online community, and because of its venerable age, you can easily find hundreds of decent C# tutorials on the Internet. And of course, we note that in Ukrainian universities, C# is studied in many technical specialties, which determines its popularity among novice developers.

Python

It is unlikely that you will find a more popular language for back-end development and creating solutions based on artificial intelligence and machine learning. In general, this is a general-purpose language, which means that it can be used in a much larger number of IT niches. Python is at the heart of platforms like YouTube and Google Search.

The popularity of Python is also due to its ease of learning and an extensive library where you can find a solution to any problem. And of course, one cannot fail to mention the simplicity and increased speed of code testing—in the case of Python, this can be done right while writing.

PHP

PHP is a scripting language that is ideal for automating small tasks. Web development is the sole purpose of PHP. It is not intended for creating desktop and mobile applications. However, the scope of PHP is enormous.

In particular, PHP code can be embedded into HTML pages as separate modules, CMS and site engines can be written on it (for example, as you may know, WordPress, Drupal, Joomla, MediaWiki, OpenCart, phpMyAdmin are written in PHP), also this language is ideal for creating data collection forms and authorization systems. And finally, it has proven itself well in the development of dynamic web pages.

Given the ease of learning, this language justifiably falls to the top of the most popular ones.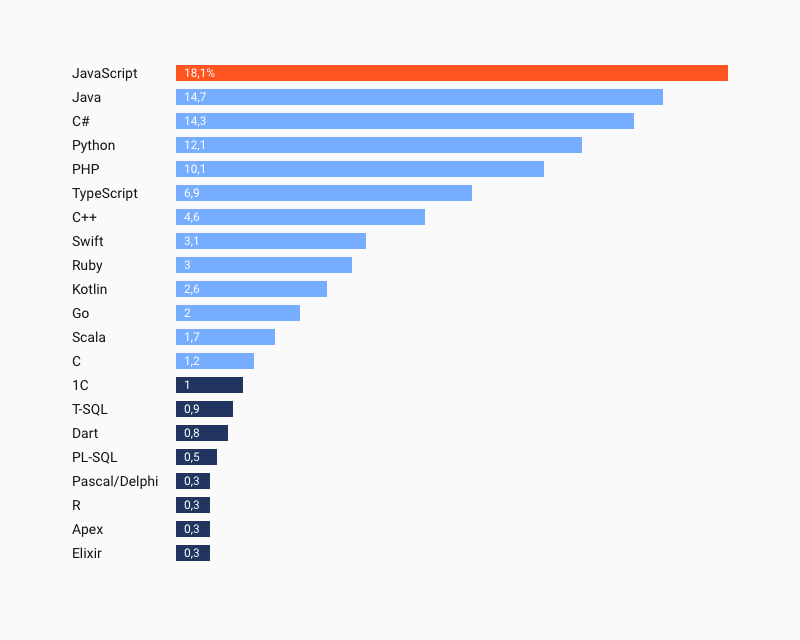 ---
Average Hourly Rates for IT Specialists in Ukraine
According to statistics from DOU, the Ukrainian IT portal, at the end of 2021, the median salary of an IT specialist in Ukraine was $2,500 per month. With a standard 40-hour workweek and 20 workdays per month, we get about $15.60 for hourly rates by outsourcing. However, the median hourly rate is significantly dragged down by interns and Junior SE's. Median salaries for Senior SE's and other more qualified specialists are over $3,800/month, equal to over $31.60/hour.
It should be noted that over the past six months, there has been an increase in these indicators—almost by 20%. This directly indicates that the demand for local specialists (especially in outsourcing firms) increases rapidly.
If you compare these rates with rates of their counterparts from the USA, Canada, and Western Europe, you will find that they are several times less. This means that the benefits of cooperation with Eastern European developers are obvious.
---
7 Reasons to Choose Ukraine as the Best Location for Outsourcing
Now we propose you learn the main benefits of outsourcing software development in Ukraine, which will play in favor of choosing a Ukrainian development team for your IT project.
A large pool of specialists

Currently, there are over 250,000 IT specialists in Ukraine, which is 50,000 more than in the previous year. This fact indicates that the local IT industry develops rapidly, reaching new horizons of the outsource development in Ukraine.

High level of expertise

Even novice developers who work in local companies have an excellent technical background—primarily thanks to the education received in local technical universities. As for those who have been working in IT for a long time, they regularly take part in technology forums and undergo advanced training to master the latest software development skill sets in time.

Affordable rates

Outsource development specialists from Ukraine offer their potential employers such favorable rates that the vast majority of local companies soon begin to specialize only in working with foreign clients. Thus, the average hourly rate of a local IT specialist ranges from $15 (tax included), which is significantly lower than that of specialists with a similar skill level from the US and Canada.

Loyal local legislation

One of the main factors in the growth of the IT industry in Ukraine (particularly software project outsourcing in Ukraine) is local legislation: companies registered on the territory of this country have good tax privileges. In addition, each technical university currently has specialties that produce future skilled workers for the IT sector.

Streamlined remote workflows

Even though more and more companies switch to remote work due to the COVID-19 pandemic, choosing an outsourcing contractor is always more than interacting with ordinary employees and almost always is a lottery. That is why it is so important to find a team that can compensate for the lack of a live presence with well-established practices of remote interaction.

Fortunately, the Ukrainian outsourcing software development IT community is one of the leaders in this regard. For example, we practice the most advanced and most proven methodologies for developing software products as well as flexible working culture. All this allows us not to lose at all, both in the final solution's quality and the degree of customer satisfaction with the interaction quality.

Optimal time zone

Ukraine is located in the optimal time zone—in central Eastern Europe. This outsourcing destination allows local specialists to communicate without any obstacles with clients who live both in the US or Canada and in the EU countries at each phase of the project.

Good communication skills

And finally, most of our Eastern European colleagues can boast of a high level of English, which is extremely important for ensuring productive interaction with clients. Indeed, often this factor is a serious obstacle on the way to a thorough understanding of the client's goals and objectives.
---
Ukrainian IT Market: What about Its Growth in the Near Future?
Why outsource software development to Ukraine in the future?
Based on statistics, we can say that Ukraine is already a significant player in the global IT outsourcing market. For example, the export of Ukrainian IT services in 2021 exceeded $5 billion for the first time.
As for specialists who will provide outsourcing to develop services in the near future, in 2021, applicants showed an apparent interest in IT education. In terms of the number of applications submitted, the specialty"Computer Science" took third place (over 66,000 applications), and "Software Engineering"—sixth place (over 43,000 applications). This indicates an evident increase in the popularity of IT among young people.
This means that in the coming years, the IT industry in Ukraine (including Ukraine outsourcing software development) will develop more and more rapidly, providing more and more favorable and convenient conditions for interaction with international partners.
---
Our Experience
Integrio Systems was created in 2000. We provide outsourced software development services to businesses in the US, Canada, and Western Europe. Ukrainian outsourcing software development projects include everything from custom SaaS products to AI-based solutions, enterprise-level systems, and scientific projects.
We are proud of our positive working culture and the presence of highly qualified specialists with Master's degrees in our team. They are responsible for implementing projects in the field of artificial intelligence and data processing.
If you are interested in realizing your business idea with the help of outsource development and maintenance services from Ukraine, feel free to contact us, and we will implement our best practices for your project! You can also learn more about our models of cooperation.
---
Final Thoughts
Let's summarize everything we said above about IT outsourcing in Ukraine. As you can see, Ukraine is one of the most demanded countries in terms of the optimal ratio of the qualification level of local developers and their rates. Ukraine's software outsourcing specialists have been involved in the creation of large-scale projects financed by companies from the US and EU countries for more than 20 years.
Would you like to find contractors for Ukrainian outsource software development? Your wish is fulfilled—the best company you can outsource is ready for you to contact us right now!