MiGym is an application suite to help sports and fitness businesses perfect their branding, attract new customers, and boost revenue. With its unique, customizable functionality, MiGym empowers its clients to author the customer journey.
Location:
Woodbury, New York
Background
MiGym got in touch with a complex project: they wanted to create a unique suite of apps for the sports and fitness industry that would be a comprehensive solution for both business owners and their customers.
Member needs that the software had to address included conveniences such as mobile scheduling, push notifications, and cardless check-in. Gym administrators needed an easy-to-use, flexible branding solution as well as tools to run promotions, maximize returns, and increase sales, engagement, and retention.
Since MiGym's client base includes both independent clubs and chains, the appearance and functionality of the apps needed to be customizable for each brand and for individual locations.
Technologies
Solution
We worked with MiGym to create a three-pronged solution that transforms the client experience for sports and fitness businesses.
Admin web app
Users of the admin web app are business owners and their staff. Via the web app, these users can customize the appearance and functionality of the mobile app or apps their members will use.
Some of the elements admins can customize in the mobile experience are:
color palette
home screen layout (prefabricated or custom tiles)
main menu & related screens
scheduling (booking, wait-listing, cancellation logic)
membership workflow (supports barcodes)
push notifications
dynamic announcements
social media integrations
In addition, the admin web app provides business-critical tools for marketing, promotions, and customer engagement such as real-time analytics, virtual coupons, and instant feedback options.
Mobile app
Users of the mobile app are fitness or sport club members. This customer-facing app is mobile-native, written to leverage the capabilities of Android and iOS. Updates and new features are delivered to users regularly.
In the mobile app, club members can:
receive push notifications and announcements
learn about upcoming classes via dynamic notifications on the home screen
sign up for classes and events
join wait lists for hot activities
add activities to their calendar
manage or cancel registrations
favorite a location to receive notifications about classes and events there
customize their default screen
The mobile app also enhances members' on-site experiences by supporting conveniences like cardless check-in and instant feedback.
Server app
The server app is used not by clubs or their members, but by the web and mobile apps themselves. It implements the core business logic for both.
Some logic, such as for booking, users specialist third-party providers. These providers are sports and fitness IT industry veterans who handle data for hundreds of gyms and their clients, ensuring that the engine powering the entire MiGym suite understands the business inside and out.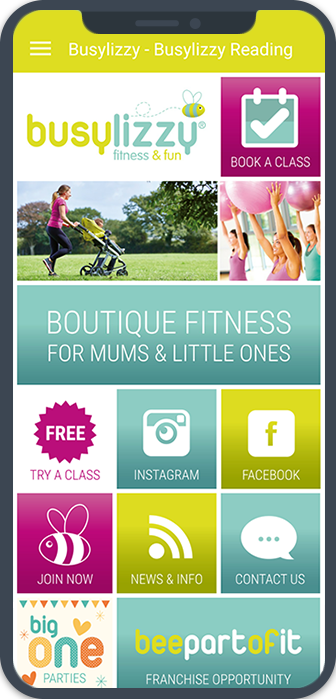 Results
MiGym is packed with the features sports and fitness clubs need:
dynamic homepage
mobile scheduling
push notifications
virtual coupons & trials
cardless check-in
instant feedback
easy downloads
real-time analytics
administrator control
custom app branding
and more
Because this app suite is so feature-rich, MiGym's clients can tailor it to support exactly the membership experience they want. That means MiGym is the perfect for solution for every gym, from broad-appeal chains to boutique fitness spas targeting niche clientele.
Clubs using MiGym find it easier to grow, too: they can scale, expand, and target new demographics, all while continuing to use familiar software that already dovetails with their operations and workflow.
MiGym's customization is particularly powerful—and, just as importantly, approachable, with three simple steps:
Design
Clients submit their logos and brand colors and then work directly with the MiGym team to set a layout, choose icons and fonts, and add custom images.
Approval
MiGym sends clients their custom app design for review and makes any changes needed.
Launch
MiGym uploads clients' apps to the Google Play store and iOS Apple App Store for them.
The result is that putting a fully supported, feature-rich, truly customized mobile app in members' hands is now within reach for every gym.