Cam Tran is a Canadian company specializing in manufacturing, repair and renewal of all types of oil filled distribution transformers.
Cam Tran is an ISO-9001 certified Canadian company specializing in manufacturing, repair and renewal of all types of oil filled distribution transformers. It is Canada's largest full line distribution oil filled transformer company and an industry leader in product quality, design & innovative service. The company has 4 locations in Canada with over 250,000sq' of manufacturing space.
Background
In 2014 Cam Tran wak looking for a software development partner to create a custom application for work instruction management.
Integrio won a tender held by Cam Tran and created Jive - a custom software system for creating, storing, organizing, searching, viewing, editing, and controlling standardized work instructions. Cam Tran approached this as a pilot project with a potential of building a larger custom application to facilitate optimization of its business process. After the pilot project was successfully completed, CamTran decided to go on. Integrio began working on automation and innovation for the other operations within Cam Tran's production cycle.
Technologies
Results
In the course of time, Jive has become more than a work instructions management application. It has become a comprehensive ERP system and a competitive advantage for Cam Tran. Current functionality of the system includes:
A simple-to-use production & inventory management toolkit that allows managers retain a better control over the manufacturing process;
Instant access to all projects progress, KPI's and critical customer information in real time to improve awareness;
Project management including specifications, drawings, time limits, completion checklists and issue management;
Document storage and management;
Production volume forecasting and financial results forecasting;
Internal audits;
Quality control;
Winding schedule optimization.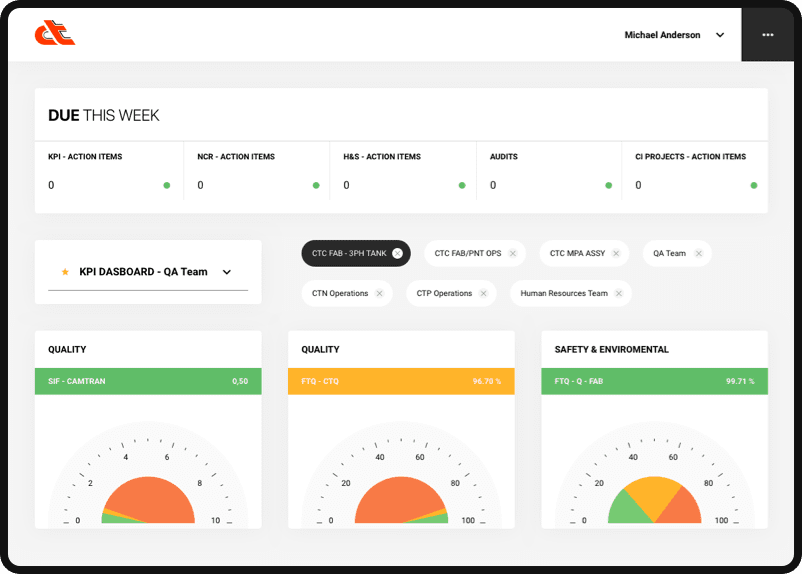 Client feedback
Jive has also become one of the important components of Cam Tran's operational excellence which was recognized by their partners. In 2019 BC Hydro, a Canadian state-owned electricity provider had Cam Tran audited - here is their feedback about Jive:
Systems/platforms in use were noted to be intuitive and could be described as best in class, based on the auditors' experience. The main point to note was that the Cam Tran NCR process was set to automatically trend NCR's raised. This is somewhat unusual and unique in the auditors' experience.
The Cam Tran main work control programme in use within the Sackville (and elsewhere in Cam Tran) 'Jive' was worthy of special mention. This programme was noted to be easy to use and provided a solid process for work control and providing demonstrable evidence of production control
In 2020 the cooperation between Integrio and Cam Tran goes on.
Currently Integrio develops new components for Jive to optimize quality control operations.