Custom AI Software vs Off-the-shelf Artificial Intelligence Solution: The Difficulty of Choice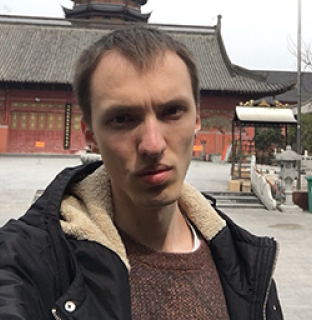 This article will compare the benefits and limitations of artificial intelligence software, specifically off-the-shelf vs. custom AI software.
AI software can be divided into two types: customized or off-the-shelf artificial intelligence software. While they're very similar in their implementation, they do differ quite a bit in the way that they function. Which is better? Well, both types have their up and downs. The answer to this question depends on the unique needs of your business and your particular scenario.
You want your company to make intelligent decisions. For example, to be able to predict user behavior, detect threats and stop fraud. This can be achieved through artificial intelligence software. But you need to compare custom and off-the-shelf AI software in order to make the best choice for your business.
In this article, I'll explain the major differences between off-the-shelf software vs custom ai software, analyze their benefits and limitations alongside covering the history of the technology and what the future could hold. Let's get started with our comparison of off-the-shelf vs custom AI software development.
---
The Era of Artificial Intelligence
Artificial intelligence (AI) is rapidly becoming an essential part of our lives. In recent years, AI has provided new ways of solving a large variety of problems and has become successful in both academic and industrial applications. Today, AI can help with complex tasks such as chat bots, autonomous cars, online marketing, banking operations, and fraud detection. Using AI in these fields has allowed organizations to achieve significantly better results. The era of artificial intelligence is here, so let's go through the main benefits of using artificial intelligence!
With constant changes in the industry and continuous technology improvements, AI has become more and more prevalent in software. There has never been a better time to investigate the development of artificial intelligence and its potential uses. AI is helping businesses revolutionize their processes with uses from product development to marketing outreach. It's making these key areas become more cost-efficient, streamlined, and optimized. Using artificial intelligence for advancements in research as well as its growing use of machine learning algorithms and deep learning platform, we can now provide our clients with real-time solutions for data analysis and insights used across industries.
Artificial intelligence has already found its use in many industries such as education, medicine, and transport. You can support the development of AI or oppose it. But there is no doubt that this will become one of the most popular industries in Information Technologies. However there is still a choice to make between custom vs off-the-shelf AI software, and this article will help inform that decision.
---
Benefits of Off-the-shelf AI Software
There are many benefits to using off-the-shelf AI software. It is a quick way to get valuable insights driven by artificial intelligence that would otherwise cost high amounts of money. Off-the-shelf solutions also save time as they are pre-made and ready to go. It is also great for small businesses which do not want to spend a lot of money to build an artificial intelligence infrastructure.
There is a wide range of benefits and advantages to using off-the-shelf AI software. Let's discuss some now.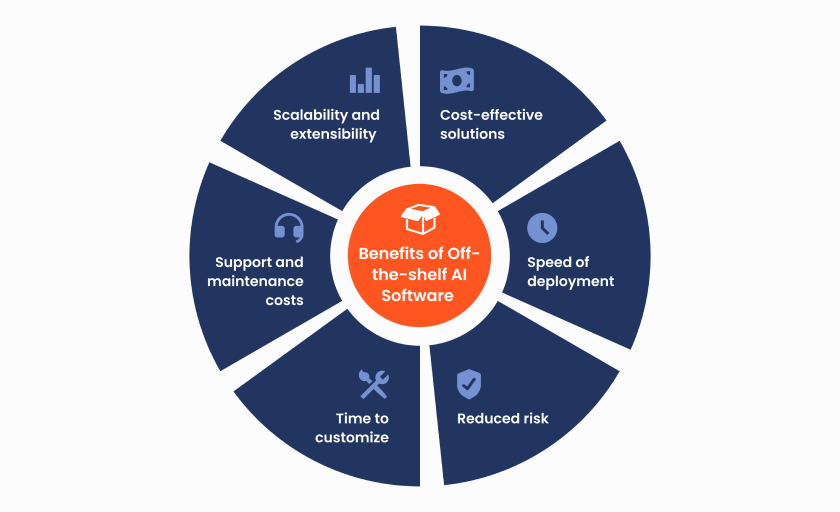 Cost-effective solutions
Generally speaking, buying into an off-the-shelf product is a lot less costly than having a bespoke solution built.
Speed of deployment
Off-the-shelf products can be deployed quickly, meaning you can start to derive value from your investment quicker.
Reduced risk
Off-the-shelf software products are already proven in the marketplace, meaning they are inherently less risky than bespoke development projects.
Time to customize
Because off-the-shelf solutions are usually fairly generic in nature, they don't need a lot of time spent configuring them for your business needs.
Support and maintenance costs
The cost and complexity of supporting and maintaining an off-the-shelf solution are often significantly lower than for a bespoke system.
Scalability and extensibility
Many off-the-shelf solutions will be able to scale with your business and have built-in adaptability as your business needs change over time.
---
Benefits of Custom AI Software
Many businesses are looking to build custom AI solutions because they can't find existing software that meets their needs. In today's increasingly digitized world, most enterprises use software to run their business processes. When it comes to artificial intelligence, most rely on open-source AI, or existing off-the-shelf AI. But in a lot of cases, these offerings are not able to address the enterprise's specific needs.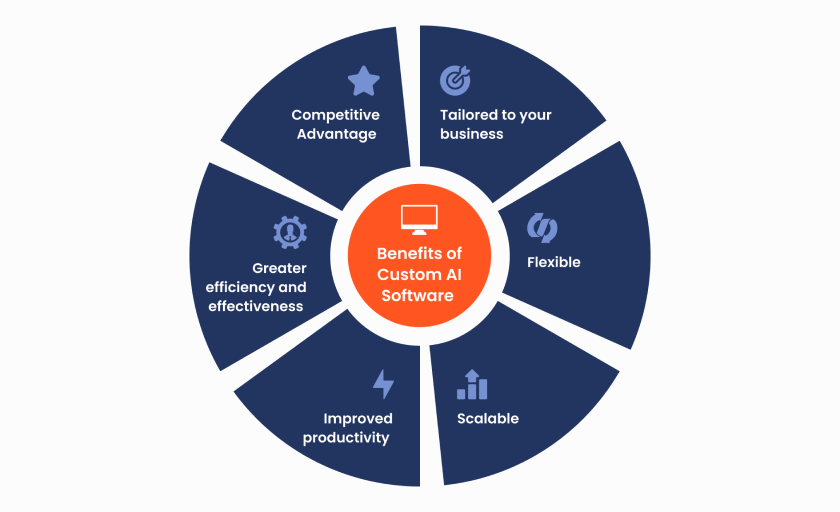 Companies also want to take advantage of the latest innovations related to AI and Machine Learning (ML). Having a custom ML software product can automate areas of your business that would have been impossible in the past. By collecting vast amounts of data and training your AI, you can create a truly intelligent AI system that will respond to user behavior.
So many companies now prefer custom AI and ML applications that allow them to develop advanced software that meets their specific requirements.
There are many benefits of custom AI software. Here are a few:
It's tailored to your business
Custom AI software is built with your specific goals in mind, and can be designed to serve your needs better than something off the shelf. If you build an AI solution from scratch, you will fully own the source code and related AI algorithm.
It's flexible
You can update the custom AI software over time to meet future needs and integrate new features as they become available. If you find problems or develop new ideas, you can easily implement them into the existing platform. You can tweak your existing algorithms to cater to new inputs.
It's Scalable
As a business grows, it becomes more difficult to scale up existing software to meet the increased demand for resources. Custom AI software is made from the ground up with scalability in mind, so it's easy to add more users or data as needed.
Improved Productivity
Because there's no learning curve with custom AI software, you get the benefit of improved productivity immediately. Your users will be able to get started doing their work more quickly and efficiently, not learning how to use the new software.
Greater Efficiency and Effectiveness
When your custom AI software works like a natural extension of your business processes, it allows you to automate routine tasks that consume lots of time and effort. Because these tasks are being automated, fewer resources are needed to complete them, freeing up people for more productive tasks.
Competitive Advantage
Nobody else has access to your custom AI solution but you. This gives you a competitive advantage over competitors who are using generic solutions that don't solve your unique problems as well as yours does. You have complete control of the source code and any AI algorithms that you create.
---
Custom Software vs Off-the-shelf AI Software: What to Choose
Let's briefly compare our two types of software in a table. Here are some of the advantages and disadvantages of custom vs. off the shelf AI software.
Pros
Cons
Cost-effective solutions
Speed of deployment
Reduced risk
Less time to customize
Support and maintenance costs
Scalability and extensibility
You own the AI code and algorithms
Can be more complex
Will need to be created from scratch
Will need to be maintained
Can overengineer simple problems when designing an AI and related AI algorithms
It's tailored to your business
It's flexible
Easier to scale in the direction you need too
Improved Productivity
Greater Efficiency and Effectiveness
Your solution is unique to your business
Probably not suited for very specific purposes or business needs
Might not be compatible with the rest of your software
You won't own the source code
Your competitors can use the exact same solution
This comparison should help you decide which option is best when picking between off-the-shelf vs custom artificial intelligence software.
---
Our Experience
At Integrio Systems, we are true leaders in artificial intelligence and machine learning. We know how to develop custom software or off-the-shelf modifications. Our talented AI & ML team which consists of highly skilled data scientists with PHDs in Math and Computer Science, is driven to use these new technologies to their full potential. Our team of experts provides the full package, including data analysis and preparation, model development, implementation and training, and finally integration and post-launch support.
The specialized knowledge we have accumulated over the years, combined with top-notch skills and capabilities in cutting-edge AL and ML technologies makes it possible for us to deliver massive value to projects and businesses, no matter what industry they belong to. This experience has allowed us to learn the best AI practices to employ and provided us with the expertise to take on any imaginable project.
One example is our work with Mobiry. We created a solution that empowered restaurants with loyalty engines and machine learning-based analytics, such as a segmentation engine, AI-powered A/B testing, and purchase frequency prediction that improved the marketing activities and sales growth of Mobiry.
---
Final Thoughts
I am continually amazed at how quickly AI products are changing the world. The pace of innovation has been unprecedented, and the applications seem limitless. While automation and AI can seem intimidating at times, there are a lot of great reasons to get on board. Hopefully, after reading this article you have a greater understanding of how off-the-shelf AI software can benefit your business as well as the advantages of having custom AI software for your business. We detailed the factors to consider when deciding between customized or off-the-shelf AI software, and you should now be better placed to make this decision.