How to Scale a Startup: 7 Strategies that Lead to Sustainable Growth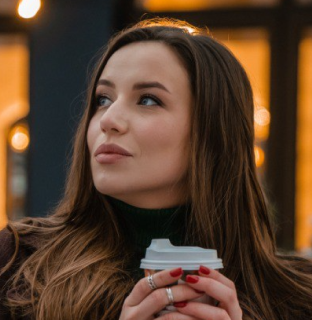 Need to prepare a scaling strategy and take your startup to the next level? This article shows you different ways of how to scale a startup business.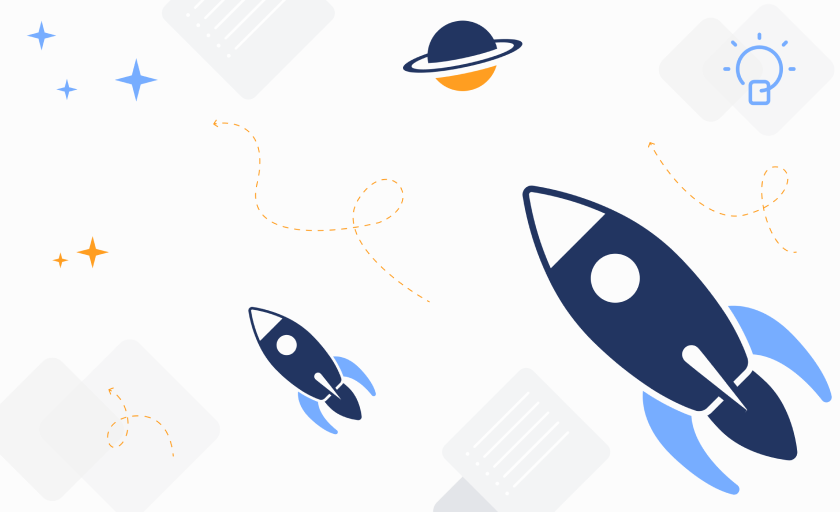 You have a successful startup. Now it's time to scale. This is one of the most difficult challenges in business. Achieving sustainable startup growth is possible, and this article will explore some of the most popular strategies of how to prepare a startup to scale up. Here are some of the topics we'll cover:
---
Identify the Best Time to Scale Up your Startup
You have a successful startup, whether that's in terms of user acquisition, your market share, or your current levels of profitability. It is difficult to know how and when to scale a startup. Scaling requires a greater investment of both time and resources. If you run your startup as a side-hustle, this can mean quitting your steady, full-time job in favor of going all-in on your own business. If you're already at this stage, scaling up usually means hiring more employees, increasing marketing spending, or investing more capital into the product or service itself.
Let's discuss some of the signs that could indicate it's time to scale.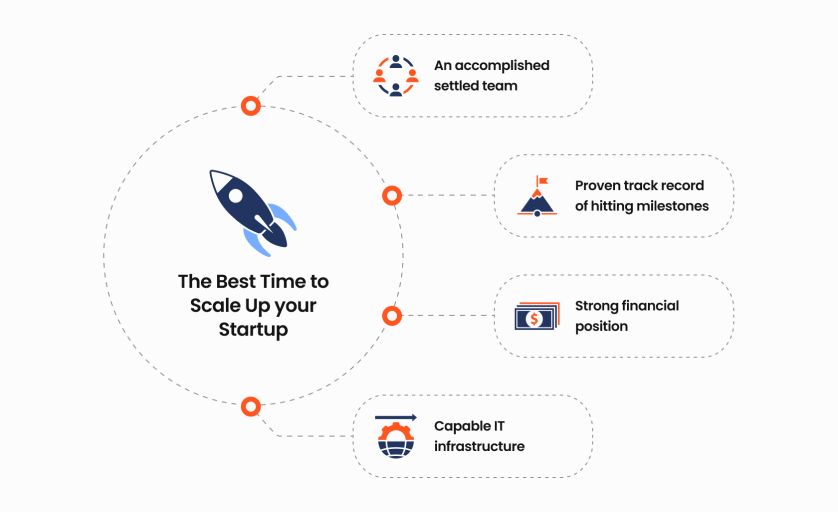 An accomplished settled team
If your team is working well together and continues to impress you with both the quality and the volume of the work being completed, it may be a sign to not only reward your team but also scale up operations. Make sure to hire new talent that will complement your existing team. This will prevent your current team from becoming overwhelmed and allow them to deliver their best work.
Proven track record of hitting milestones
Assess your record of achieving the goals you set out for your business. If you can honestly say that you have hit each milestone thus far, it may be time to increase the challenge and the amount of risk by aiming higher. Setting a more ambitious goal could take your business to the next level.
Strong financial position
You need to be in a strong position financially before you take the leap and build a scalable startup. If your company provides a service, you should have a lot of current clients with plans to source new clients in the pipeline. If you have a product, make sure you have a lot of cash in hand for research and development, advertising, inventory, and other associated costs.
Capable IT Infrastructure
If the technical side of your startup has run smoothly, without any outages or issues arising, it may be a sign that you are capable of handling more users and the associated traffic. Consider doing some performance and load testing to make sure you can handle any increases in traffic with ease. This will ensure your infrastructure is ready when you scale up business or startup activities.
---
Choose your startup scaling strategy
There is no single way of scaling up your business. There are many different strategies you can choose from. Let's look at seven different strategies of how to scale a startup.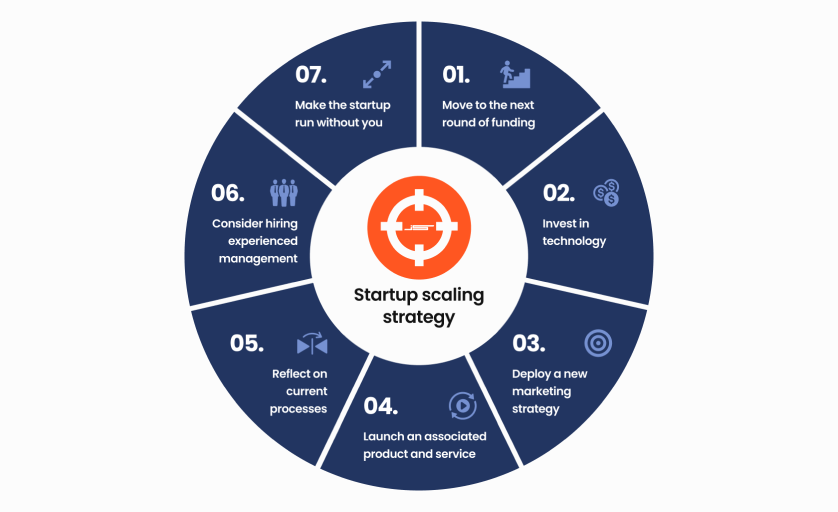 Move to the next round of funding

If your startup has followed the traditional series of funding thus far, it may be time to move on and seek your next round of funding. Prepare by creating a clear and concise pitch deck and get your financial statements and other related documentation in order. You can expect to face tough questions from investors who are going to want a return on their money. However, don't just tell investors what they want to hear. Make sure you are honest about your plans for expansion, any current or future profitability, and when investors can expect to get a return on their investment.

Invest in technology

Another popular startup scaling strategy commonly used to scale and expand a startup is to invest further into the technology and infrastructure used by your company. By improving your current technology offering, or transitioning to a more modern and scalable IT infrastructure you can serve your customers more effectively.

If you scale successfully you can expect more users and traffic, and with that comes more stress on your current IT system. Having a robust and reliable infrastructure in place will help retain existing customers and clients while attracting new ones.

Deploy a new marketing strategy

One of the most effective strategies of how to scale up a startup is to tell more people about it! Creating a fresh, bold, and impactful marketing campaign can transform your business overnight. Thanks to the viral nature of social media, one video can drastically impact the number of sales and orders you receive. Do your own research on what type of marketing strategy would be the best fit for your startup. Some popular options are:

creating engaging and valuable content;
paid advertisement;
video blogs and guides;
SEO;
email marketing;
direct marketing.

Consider consulting with a marketing specialist or an advertising agency to learn more about what strategy could be the best fit for your business.

Launch an associated product and service

To facilitate the growth of your startup, you can launch a complimentary product or service that will expand your business offerings. Let's consider an example. Imagine your startup has created a tool that accepts PDF files and creates a dynamic interactive report based on the contents of that PDF. To scale, you decide to invest further in your business and expand the current tool to accept .doc (Microsoft Word) files. This sounds obvious and simple, but you can be sure your team will face many challenges in developing, testing, and supporting this new version of the tool. Each challenge that arises will usually cost you some time, money, or both. However, this investment means your tool will now be of interest to many potential future customers.

Reflect on Current Processes

One innovative and cost-effective strategy you can use to scale is to reflect on your current business processes and identify what practices are inefficient and causing your business to stagnate. When you are looking to scale your startup quickly, it is tempting to look to external resources such as new hires or new clients that will cause the output of your business to increase. However, it is also possible to achieve a similar level of growth by streamlining your current processes. It is estimated that having inefficient processes can cost your business between 20-30% of its revenue annually. Imagine if you had this money available to reinvest into your startup, and the resulting growth you would experience. As a modern, lean startup you should be obsessed with automation.

Consider Hiring experienced management

As the leader of your startup, you are clearly talented in many different areas of business. However, nobody's perfect. Sometimes seeking outside help in the form of an experienced, more objective management professional can be beneficial for your startup.

The manager you hire will be able to deal with a stressful situation more calmly, as they have less of a personal stake in the business. The fact that you are so heavily invested in your startup may cause you to make bad decisions. Having an experienced manager in your corner, especially one with previous experience in successfully scaling startups, can transform your business into a more robust and organized company.

This is also important for retaining your top employees. If your startup is a chaotic and stressful environment to work in, your top talent is sure to leave eventually. According to Gallop, a global analytics and advice firm, voluntary turnover costs U.S. companies $1 trillion a year. In addition to this, having to replace an employee that has left your company can cost one-half to twice the person's annual salary.

Make the startup run without you

The ultimate goal of any startup is to become a reputable, successful, and sustainable business for years to come. As the leader of your business, you have a responsibility to ensure the business can run smoothly in your absence. If you sold your startup and were no longer in charge of the day-to-day operations, would your startup survive without you? If you answered "no" to this question, you should begin work immediately on distributing your various roles and responsibilities across your company. This will likely involve hiring new talent to manage the increased workload.

This transition and relinquishment of control, no matter how painful it may be at the time, will make your startup much more agile and resilient to market changes. It also has the added benefit of taking work off of your plate. If you assign some of your work to specialized, dedicated talent, you can expect that work to get done more efficiently and to a higher standard. At Integrio Systems, we've partnered with successful startups to take their business to the next level. One such example is Volo Innovations, a SaaS application we created for our client who needed bespoke gym management software.
---
Challenges when you scale a startup business
Running your own business is tough, you already know this. Unfortunately, when it comes time to scale, it doesn't get any easier. This is a critical time for your business, and the risks are far greater. Here are some common challenges to watch out for when you scale your startup.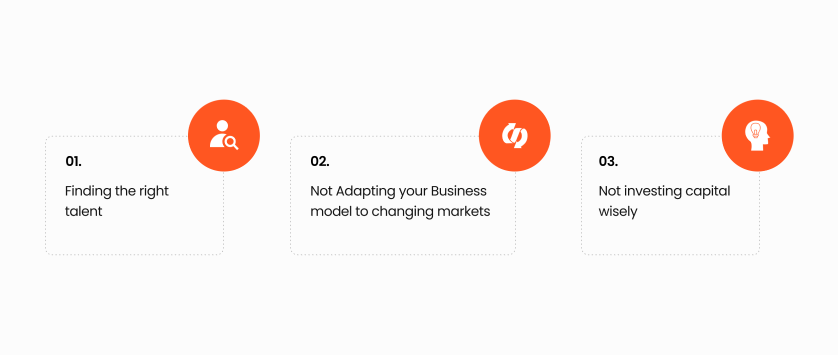 Finding the right talent
Attracting and retaining top talent is always a challenge. You need to have a competent and resilient team in place before undertaking any plans for expansion. As a leader, it is your responsibility to ensure your teams have adequate resources. Whether it is new hires, increased server capacity, or new equipment, make sure your team is fully equipped to face the challenges that scaling a startup is sure to bring.
Not investing capital wisely
You've just received the next round of desperately needed funding. This new injection of cash could fund the successful expansion of your business, but only if you invest it wisely. Try to get the best return for your money. You can seek advice from any mentors in your network to see if they have any success, failure, or helpful words of warning related to this topic. According to Forbes, mentored startups grow 3.5x faster and raise 7x more money. The decision of how to distribute your newly found capital may be more obvious than you first think. For example, you might need to hire additional developers and spend more on servers or cloud computing in order to keep up with a new surge of customer demand that resulted from your expansion.
Not Adapting your Business model to changing markets
While scaling your startup you must continue to adapt to market changes. Startups are renowned for being lean, agile, and responding quickly to any changes in their industry. Your company must be no different. Failure to adapt your business practices will result in lost profits, stagnation, and ultimately failure. One famous example of this is Netflix. Netflix started as a DVD rental company similar to Blockbuster. Netflix would mail physical DVDs to their customers. However, the DVD rental market dived thanks to the rise of streaming services and online video content. Noticing this trend, Netflix decided to go all-in on streaming and eventually became the giant streaming company we all know today.
What happened to Blockbuster? At its peak, Blockbuster had about 9,000 locations in the United States. They failed to adapt to the changing marketplace and steadily declined over the years. There is just a single Blockbuster store left in the US.
---
Final Thoughts on Startup Scaling
We've reached the end of this article. Hopefully, you now possess a better understanding of the strategies and possible challenges you will face if you have a startup to scale up.
If you still have any questions or want to consult with an experienced business partner with a proven track record of scaling startups, contact our team at Integrio Systems today. We would be delighted to discuss the way forward for your business and the unique challenges your industry could pose.