Hire Data Scientist with Integrio
Unlock the power of your data to optimize resource allocation and personalize marketing strategies with Integrio's data science consultants. Leverage our expertise to gain valuable insights, make data-driven decisions, and propel your company forward.
Get a consultation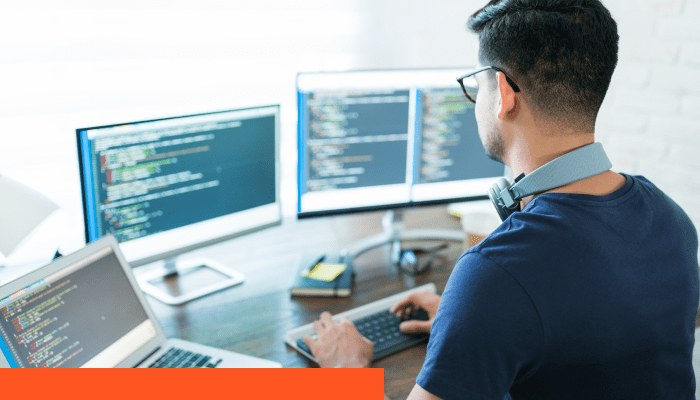 Hire Data Science Developers in
4 Steps
Hiring Data Scientists is straightforward: see how our team can assist you.
1. Define Your Needs
Specify your business requirements and identify the appropriate skill set for your product. Provide candid information regarding your technical and personal expectations.
2. Let Us Pick the Perfect Data Scientists
Our team conducts thorough technical interviews and diligently screens candidates to match your specific requirements. We will furnish you with the resumes of our exceptionally qualified specialists.
3. Conduct Final Interviews
Conduct conclusive interviews to pick the cherries among the data scientists we can provide for your needs. We offer senior data scientists (or any other level you require) with extensive experience in the field and the potential to bring the most of their expertise.
4. Start
Working
Effortlessly integrate your newly acquired experts and initiate development without any administrative hurdles. Take advantage of our continuous support and proficient project management to enhance your product's success.
Data Science Solutions We Can Provide
Integrio lets you hire data scientist experts for the following tasks:
Data Analysis and Visualization
Our team delves into the data, executing statistical analysis to pull out insights and crafting visual displays that effectively communicate the findings.
Predictive
Analytics
We harness machine learning algorithms to construct predictive models, enabling foresight and informed predictions based on historical data.
Machine Learning Development
Our experts are adept at building and applying machine learning algorithms and models that address specific business challenges or streamline processes.
Data Engineering
The experts we provide concentrate on data collection, integration, and cleansing. They also create data pipelines to ensure your data is always ready and reliable for analysis.
Natural Language Processing (NLP)
At Integrio, we tap into NLP techniques to decode and understand human language, powering tasks such as sentiment analysis, text classification, and information extraction.
Data Mining
Our team uses cutting-edge techniques to uncover patterns, relationships, and insights hidden in large volumes of both structured and unstructured data.
Model Deployment and Optimization
We support the deployment of machine learning models into production environments, work on model performance optimization, and maintain model accuracy through continuous monitoring and improvement.
Data Strategy and Consulting
Our team delivers strategic guidance, evaluates data maturity, crafts data-driven strategies, and advises on leveraging data for business expansion.
Data Governance
Hire remote data scientists from Integrio to establish robust policies, processes, and frameworks that safeguard data quality, privacy, compliance, and security across your organization.
Data Integration and ETL
Integrio provides data scientists who take charge of integrating data from diverse sources, carry out Extract, Transform, Load (ETL) tasks, and confirm the consistency and integrity of data.
Tech Stack Our Data Scientists Use
As a data science talent provider, Integrio employs a variety of programming languages and frameworks to unlock your data's potential.
Data Analysis
Pandas
Tidyverse
Data Engineering
Spark
Dask
MySQL
PostgreSQL
Kafka
MongoDB
Cassandra
Elastic
Web Development
PHP
Python
Laravel
MEAN Stack
DevOps
MERN Stack
Golang
Flutter
PM Tools
Trello
Slack
Basecamp
Jira
Asana
Azure DevOps
Hubstaff Tasks
Benefits of Hiring Dedicated Data Scientist from Integrio Systems
Hire Data Scientist from Integrio to reveal what the power of data has to offer.
Vast Technical Expertise
For 23 years, our business has provided cutting-edge custom software to large-scale corporations, small and mid-sized businesses, and aspirational startups.
Full-scale service
Integrio offers data science experts for developing end-to-end solutions, from idea validation and prototyping to developing an MVP and scaling it for future expansion.
Only modern tech stack
We have extensive experience building prediction and recommendation engines, data analysis, intelligent assistants, and other AI/ML-powered systems.
Flexible engagement models
A dedicated team (time & material or monthly retainer), or project outsourcing (time & material or monthly retainer) - make your convenient pick among these two options to work with us the way you see fit.
Fullfill all your software needs
Let us help you hire all the required specialists for developing software of various types and complexity.
Get a Quote
FAQ
Data scientists are typically sought after in various industries, including technology, finance, healthcare, e-commerce, and marketing. They are often hired for projects involving machine learning, predictive analytics, data mining, natural language processing, and decision support systems, among others.
It's possible to cover whatever function you need if you hire Data Scientists remotely.
To select the best and certified data scientists for your project, consider their expertise in your specific domain or industry, their proficiency in relevant programming languages and tools, and their track record of successfully delivering similar projects. Additionally, to hire the best data scientists, assess their problem-solving skills, ability to communicate complex concepts, and aptitude for collaborating with cross-functional teams to ensure a good fit for your project's requirements and goals.
As a hiring company, Integrio provides the necessary hardware and software resources, including workstations, servers, and cloud infrastructure, for its employees.
Dedicated data science engineers help address challenges related to developing, deploying, and optimizing data science models and systems. They tackle tasks such as:
building scalable data pipelines

implementing efficient data preprocessing and feature engineering techniques

optimizing algorithms for performance and scalability

deploying models into production environments

managing and monitoring data infrastructure

addressing challenges related to data storage, processing, and integration.
Yes, Integrio's data scientists for hire can join and contribute to a project midway through. When joining a mid-project, our professionals will need to familiarize themselves with the project's objectives, data, existing models, and infrastructure. They may also need to collaborate closely with your existing team to understand the progress made so far and identify areas where their expertise can add value.
To hire offshore Data Scientists successfully, firstly, outline your project needs and desired skills. Next, conduct interviews or technical assessments for skill and project fit, considering language proficiency, time zone, and communication. Ensure clear communication channels, project milestones, and reporting mechanisms during work. Alternatively, Integrio can cover your data science needs by offering flexible engagement models.
The data scientists at Integrio utilize a range of technologies, including Pandas and Tidyverse for data analysis, Spark and Dask for data engineering, MySQL and PostgreSQL for databases, Kafka, MongoDB, and Cassandra for data storage and processing, Elastic for search and analytics. In terms of web development, they work with PHP, Python, Laravel, MEAN Stack, Golang, and Flutter. Additionally, our dedicated Data Scientists employ various project management tools such as Trello, Slack, Basecamp, Jira, Asana, Azure DevOps, and Hubstaff Tasks for efficient collaboration and organization.