Hire AWS Developers
Seek to hire dedicated AWS developers to build, automate, optimize, and administrate Amazon Web Services infrastructure? Integrio Systems connects you with skilled professionals to handle technical challenges of varying complexity.
Discuss your project
Hire AWS Developers
in 4 Steps
Get started with a certified AWS developer with a hassle-free hiring process.
1. Define Project Requirements
Tell us about your goals, requirements, budget, and timeframe. We'd also like to know your expectations of the AWS specialist's background and skills.
2. Shortlist Potential Candidates
Our team selects the best-matching candidates to join your project. We provide AWS software engineers' CVs to review and then arrange interviews.
3. Make Your
Decision
Talk to the potential candidates and choose the right one based on your criteria and values. On our part, we ensure smooth onboarding and integration of a junior, middle, or senior AWS developer into your workflows and management systems.
4. Kick-start your
project
Save the company's resources and delegate administrative tasks to Integrio Systems. Our competent team ensures seamless project iterations and successful outcomes for you to devote yourself to business development.
Our AWS Development Services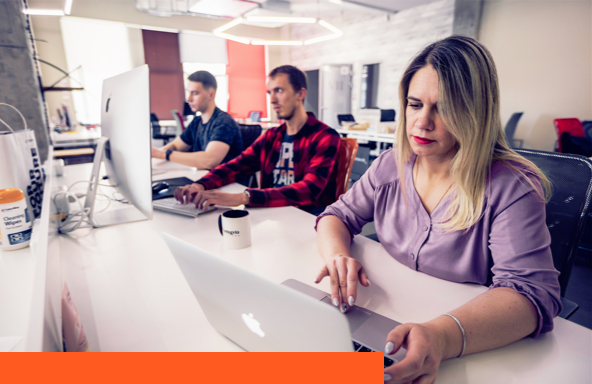 AWS App Development

Hire offshore AWS developers through Integrio Systems to have cutting-edge, feature-rich apps that work seamlessly across platforms. We make your company stand out from the competition without breaking the bank.

AWS Integration

AWS integration involves connecting and integrating Amazon Web Services (AWS) with other systems, applications, or services. It enables seamless integration with existing on-premises systems or third-party applications, leveraging AWS services such as Lambda, S3, API Gateway, and more.

DevOps as-a-Service

Embrace the power of DevOps with our full-stack services, including Continuous Integration and Continuous Deployment (CI/CD). Our AWS developers adopt proven DevOps approaches, tools, and practices to build applications and services at high velocity.

AWS Consulting

Tackle complex enterprise challenges head-on with our top-notch AWS consulting services. Our team of experts guides you through the AWS landscape, helping you make wise investments and achieve remarkable results.

Robust Security Measures

Safeguard your data and applications with our comprehensive cloud security solutions. Hire AWS developers remotely to protect your apps from malicious attacks and vulnerabilities, ensuring excellent functionality.

24/7 Technical Assistance

Our offshore team of AWS coders and engineers provides continuous technical support, ensuring prompt identification and resolution of bugs and complex software issues.
Gain a Competitive Edge with Our Seasoned AWS Developers for Hire
Hire the best AWS developers to set your product apart in the market.
Paramount Privacy Measures
Integrio Systems upholds the highest privacy standards. When you hire offshore AWS developers through our company, they sign a non-disclosure agreement (NDA) to ensure the utmost confidentiality of your data.
Impeccable Product Quality
Our experienced AWS programmers have a proven track record of delivering successful AWS cloud projects across diverse industries. They build products of uncompromised quality and performance thanks to their passion for learning new trends and constant self-improvement.
Transparent Collaboration
Transparency lies at the heart of all processes at Integrio Systems. When you hire remote AWS developers, you get crystal clear and reliable partnerships. Our team prioritizes straightforward communication and open visibility into our progress and challenges.
Access to AWS Talents Worldwide
We connect you with seasoned AWS coders and engineers from around the world. They bring the best industry experience and knowledge to enhance your project at affordable and transparent rates. No hidden fees surprise you at the end of the project.
Fullfill all your software needs
Let us help you hire all the required specialists for developing software of various types and complexity.
Get a Quote
FAQ
You can hire AWS programmers for different projects:
building and maintaining cloud infrastructure
developing and deploying applications on AWS
implementing DevOps practices for automation and continuous integration/continuous deployment (CI/CD)
creating data analytics and machine learning solutions
working on IoT development projects.
Their expertise spans various areas of AWS services and technologies, enabling them to tackle diverse project requirements. Send us a query at info@integrio.net to get more info.
Finding good AWS professionals is challenging due to the high demand for their skills and the constantly evolving AWS technologies. However, we can help you hire the best AWS developers while saving you time on searches and multiple stages of the interview. It is as easy as 1-2-3. Reach out to us to learn more at info@integrio.net.
Integrio System takes care of workstations for AWS developers hired for your project. Along with workstations, we provide development environments and necessary software licenses.
Absolutely. We provide AWS developers with the opportunity to grow professionally on every project. So they apply their many-year experience and well-honed skills to make a powerful impact at the different phases of product development. Our specialists quickly take in requirements and adapt to the existing codebase and architecture.
By hiring Integrio Systems' specialists, you always work with top-notch professionals skilled in various AWS services and technologies. This allows you to leverage their expertise to build scalable and efficient cloud solutions tailored to your needs. Plus, you benefit from our cost-effective rates, reduced management overhead, and timely project delivery.
AWS engineers hold hands-on expertise in designing and implementing scalable cloud architectures, proficiency in managing AWS services, performance optimization and security skills, and a deep understanding of cloud-native development practices.
As for hard skills, look for proficiency in AWS services such as EC2, S3, Lambda, and CloudFormation, knowledge of serverless architectures, experience with DevOps practices and tools, familiarity with database technologies, and a strong understanding of security and compliance in AWS environments. And for better in-team work, pay attention to communication, problem-solving, and adaptability.